Home

/

Pure Land Buddhism

/

About the Pure Land School
Pre-Meal Gatha and Post-Meal Gatha
Introduction:
Pure Land practitioners recite these two verses before and after meals. The Pre-Meal Gatha and Post-Meal Gatha are a respectful expression of appreciation for the delivetance of Amitabha Buddha.
Pre-Meal Gatha
By the grace of Amitabha Buddha
I am granted this wholesome meal.
I receive it with
Gratitude, respect and joy.

Post-Meal Gatha
Having finished the meal,
I wish that sentient beings
Will have faith in Amitabha Buddha, recite his name
And be reborn in the Land of Bliss.
Pre-Meal Gatha and Post-Meal Gatha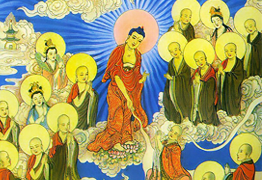 Characteristics
Recitation of Amitabha's name, relying on his Fundamental Vow (the 18th)
Rebirth of ordinary beings in the Pure Land's Realm of Rewards
Rebirth assured in the present lifetime
Non-retrogression achieved in this lifetime
Faith in, and acceptance of, Amitabha's deliverance
Single-minded recitation of Amitabha's name
Aspiration to rebirth in Amitabha's Pure Land
Comprehensive deliverance of all sentient beings