Home

/

Pure Land Buddhism

/

About the Pure Land School
Special Characteristics
Characteristics
Recitation of Amitabha's name, relying on his Fundamental Vow (the 18th)
Rebirth of ordinary beings in the Pure Land's Realm of Rewards
Rebirth assured in the present lifetime
Non-retrogression achieved in this lifetime
ATTRIBUTES OF THE PURE LAND SCHOOL
Ultimate Truths (leading to rebirth in the Pure Land) –


Recite Amitabha Buddha's name single-mindedly: Shakyamuni Buddha's underlying wish is none other than for beings to recite the name of Amitabha exclusively.
Avoid doubt and mixed practice: Do not doubt, do not break practice, do not dilute (by mixing in other Buddhas or practices).
Stay foolish and do not argue: Venerate our own school but do not disparage other traditions. Do not debate the relative merits of different Dharma schools; just stay foolish and recite Amitabha's name.
Six do's and don'ts: Don't seek special experiences, do value what is commonplace. Don't esteem the mystical and fantastic, do cherish the plain and solid. Don't revere profundities, do appreciate what is ordinary. Don't pursue pure learning, do develop faith. Don't concern yourself with the abstruse, do prize simplicity. Don't go for the complicated, do attach importance to what is familiar.
Respect the lineage: Our writings and discourses must stick conscientiously to our lineage. We must never presume to break tradition with our own elaborations of the teachings. Where the thought and perspective of other schools and lineages differ from ours, respect them but do not follow them. We should firmly uphold our own tradition.
Develop close ties to fellow practitioners: We should interact closely with like-minded practitioners to study and discuss the Dharma. As for those who follow a different path, we should keep our distance, lest we are distracted from our own practice.

Worldly Truths (governing everyday life) –


Be reverential and trusting towards Amitabha Buddha, and compassionate and understanding to other people. In our deportment, we should be modest and amiable.
Be sincere and scrupulous in your relationships. Avoid evil and cherish good. Be an upstanding citizen by showing civic-mindedness and respecting the law.
We should feel that our foolishness and capacity for wrongdoing exceed those of others, and that we aren't qualified to argue with them. Do not speak gossip, listen to gossip, spread gossip or discuss gossip. Avoid finding fault with others, publicizing their transgressions or exposing their private matters. Do not quarrel with others over whether you or they are right. Do not neglect the law of cause and effect, or harbor ill will. Do not be false, or engage in flattery or misrepresentation.
Be respectful and caring towards your family and relatives to create harmonious ties. Hold virtue and benevolence in high regard, and cultivate propriety and accommodation. Maintain an agreeable countenance and pleasant speech, and smile from the bottom of your heart. Think compassionately of sentient beings and treat people generously. Be humble and courteous, never prideful. Have a sense of shame and always be grateful for the Buddha's kindness.
Give peace of mind, happiness, hope and benefit to others. Do everything sincerely and lovingly. Be thankful and respectful under all circumstances.
Learn from Amitabha Buddha's great compassion: Treat others the way Amitabha treats you.
Special Characteristics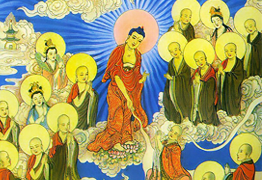 Characteristics
Recitation of Amitabha's name, relying on his Fundamental Vow (the 18th)
Rebirth of ordinary beings in the Pure Land's Realm of Rewards
Rebirth assured in the present lifetime
Non-retrogression achieved in this lifetime
Faith in, and acceptance of, Amitabha's deliverance
Single-minded recitation of Amitabha's name
Aspiration to rebirth in Amitabha's Pure Land
Comprehensive deliverance of all sentient beings