Home

/

Pure Land Buddhism

/

About the Pure Land School
The Pure Land School Translation Team
The Pure LaThe Pure Land School Translation Team

The team is an international group of volunteer translators and editors. It is dedicated to making the teachings of Master Shandao, founder of Buddhism's Pure Land school, better known around the world. For various historical reasons, Master Shandao's seminal and definitive writings in Chinese are scarcely known outside Chinese- and Japanese-speaking regions.
The team's origins date to 2011, when it became clear that the paucity of quality materials on these teachings available to the international community was a formidable obstacle to their dissemination and understanding, as well as the sharing of their invaluable benefits. With the blessing of Master Huijing, a core of several volunteers began work that year on the translation into English of key basic texts relating to Master Shandao's pristine Pure Land lineage. Works published so far are available elsewhere in this website, many of them for download.
The team's monastic adviser is Dharma Master Jinghe (Ching Ho), based at the Pure Land school in Taiwan and holder of a Master of Business Administration degree from the University of Birmingham. Printed copies of our English publications can be obtained by writing to him at linshihho2000@hotmail.com or amt@plb.tw.
The Translation Team:
Adviser
Dharma Master Jinghe Taipei, Taiwan
Members
Fojin (Agnes Chung Allcock) Editor and translator Hong Kong, P.R. China
Folu (Jin Xin) Translator Beijing, P.R. China
Foqing (Song Meiling) Translator Beijing, P.R. China
Foyi (Guo Zuqian) Translator Haimen, Jiangsu, P.R. China
Foying (Zhou Wenjie) Translator Shanghai, P.R. China
Foyuan (Xu Yibin) Translator Xuancheng, Anhui, P.R. China
Jingchou (Teresa Chung Marylander) Translator Oakland, California, USA
Jingfa (Nicolas Duchemin) Translator Tokyo, Japan
Jingnian (Domingo Hernandez De Jesus) Editor Bloomfield, New Jersey, USA
Jingpu (Alan Kwan) Translator Vancouver, Canada
Jingtu (Thomas Hon Wing Polin) Editor and translator Hong Kong, P.R. China
Jingxing (Jason Ranek) Editor Vale, Norway
The Pure Land School Translation Team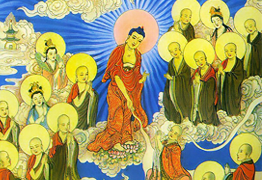 Characteristics
Recitation of Amitabha's name, relying on his Fundamental Vow (the 18th)
Rebirth of ordinary beings in the Pure Land's Realm of Rewards
Rebirth assured in the present lifetime
Non-retrogression achieved in this lifetime
Faith in, and acceptance of, Amitabha's deliverance
Single-minded recitation of Amitabha's name
Aspiration to rebirth in Amitabha's Pure Land
Comprehensive deliverance of all sentient beings